Basque Spanish: an Overview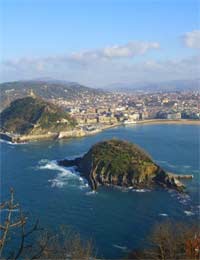 The Basque Country is the region of the western Pyrenees which straddles the border between France and Spain, with the Bay of Biscay to the north.
An 'autonomous region' for nearly the past two decades, the Basque country has up to three million inhabitants, who are from what may well be one of the oldest civilisations on the European continent. Up to a million of these speak Basque across the seven historic Basque provinces, most of them Spanish nationals.
Long History, Mysterious Origins
The origins of the Basque language – Euskera, sometimes written Euskara – are shrouded in mystery. Although it has been influenced by the Latin, Spanish and Gascon languages, it has no clear linguistic relatives. Some have drawn parallels with Finnish and the indigenous Latin American language Quecha, such similarities have proved to be controversial and inconclusive.
However, it is thought that Basque, which has remained unchanged for centuries, may be one of Europe's most ancient languages, which would link Basque culture to that of a prehistoric people. It is thought to have Celtic influences, and an early form of Basque is likely to have been present in western Europe before the arrival on the continent of Indo-European languages.
The discovery of several Basque-type skulls at Neolithic sites means the language is most likely to have developed 'in situ', and its oldest traces are to be found on Roman inscriptions in Aquitanie.
Influences
The influence of Euskera can be seen in modern Castilian Spanish in some words. For example, izquierda, the word for left (as opposed to right) is Basque in origin. Equally, the fact that Spanish has no 'v' sound, since it is replaced by 'b' is also down to the influence of the Basque language.
A Rural, Oral Tradition
Historically, Basque has been a language overwhelmingly used by rural communities and passed down the generations orally. Largely because of the historical prevalence of Latin, there is no strong literary tradition. (The first book in Basque was not published until 1545.)
Hard to Learn
It may use our Latin alphabet, but the Basque language, with its complex system of adding prefixes and suffixes to words to add meaning, is a fiendishly difficult one to master. Even the Basques themselves joke that, after the devil spent seven years trying to conquer Euskera so that he could tempt them, he had only learned the words for 'yes' and 'no.'
Dialects
There are eight dialects, and numerous sub-dialects, with Batua (literally meaning 'unified') the most common. There are great dialectal variations in stresses on different words. But Batua is the version most commonly taught in schools, and is used in the media and official papers.
A Strong Future
Suppressed under the 1936-1975 Franco dictatorship, when children could be punished for speaking it, even at playtime, Euskera now enjoys co-official status with Spanish, although has no official standing in the northern Basque country, which lies in France. French citizens, for example, cannot use Basque in a French law court.
Since the 1960s, there has been a strong and growing interest in preserving Euskera. Basque people are justifiably proud of their language, and it has to be understood by anyone who wants to really appreciate their culture.
You might also like...