Gallego Spanish: an Overview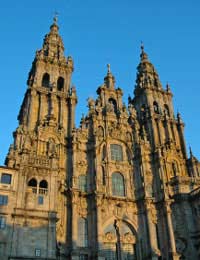 Galician is spoken by more than three million people, including most of the population of Galicia, an autonomous region of Spain's north-west, bordering Portugal. Many people of Galician origin now living elsewhere in Spain and Latin America also speak Galician, or gallego.
Most people in Galicia today are bilingual with Castilian Spanish, with only 10 per cent of gallegos claiming they never use their native language. In cities and towns, though, you are more likely to hear Spanish than in Galicia's rural areas.
Except for Castilian Spanish itself, of Spain's four languages, Galician is the only one spoken by the majority of those living in its territory
History
In medieval times, Galician and Portuguese were the same language. Galician-Portuguese originated in Galicia and northern parts of Portugal in lands belonging to the ancient Kingdom of Galicia (comprising the Roman Gallaecia). It branched southwards after the 14th century following the Portuguese expansion.
From the 8th century, Galicia was a political unit within the kingdoms of Asturias and Leon, but reached a degree of autonomy, becoming an independent kingdom at various points in the tenth, eleventh and twelfth centuries.
Galician was the only spoken language while Latin, although to a decreasing extent, was the written language. This monopoly on spoken language was able to exert such pressure in the 13th century that it led to dual official status for Galician and Latin.
Written Galician texts have only been found dating from the end of the twelfth century, because Latin continued to be the cultured language.
After the separation of Portuguese and Galician, Galician was considered provincial, and was not widely used for literary or academic purposes until it enjoyed a renaissance in the mid-19th century.
Galician and Portuguese
Galician and Portuguese are very similar, and the relationship between them can be compared to that between English and Lowland Scots.
Although mutual comprehension is good between Galicians and those from northern Portugal, it is poorer between Galicians and speakers of Central-Southern European Portuguese.
Some consider modern Galician and Portuguese to be variants of the same language, but this has idea been contested, and has become politically controversial.
Those who argue for Galician as a separate languages cite major differences in phonetics and vocabulary use, and, to a lesser extent, morphology and syntax.
The official institution regulating Galician language, the Instituto da Lingua Galega (ILG), and the government of the region, claim that modern Galician must be considered an independent Romance language belonging to the group of Ibero-Romance languages, with strong ties to Portuguese and its northern dialects.
But an unofficial institution, Associaçom Galega da Lingua (AGAL, Galician Association of the Language), says the differences between Galician and Portuguese speech are not enough to consider them separate languages, and Galician is simply a variety of Portuguese.
On the two sides of the argument are the fact that Portuguese and Galician have different versions of the Latin alphabet, but it is harder to tell the differences between spoken Galician and spoken Portuguese.
Official Status
Spain has recognised Galician as one of Spain's four 'official languages' (lenguas españolas), the others being Castilian (or Standard Spanish), Catalan and Basque. Galician is taught in primary and secondary schools, and used at universities in Galicia.
There is a public Galician-language television channel, and hundreds of books in gallego are published each year. Further, the European Parliament has accepted it as a form of Portuguese, and it is used as such by, among Galician representatives.
You might also like...