Catalan Spanish: an Overview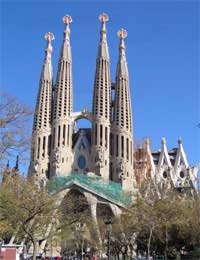 Catalan is a Romance language, with more than nine million speakers. It is the national and official language of the principality of Andorra, and has co-official language status in Catalonia, the Balearic Islands, and Valencia, where it is called Valencian - all Spanish autonomous regions.
It is also enjoys similar status in the Sardinian city of Alghero. It is also spoken, although without official recognition, in parts of Aragon, also a Spanish autonomous region, and Murcia, and in the southern French area of Roussillon.
History
Catalan developed by the 9th century from Vulgar Latin on both sides of the eastern Pyrenees. By the end of the 10th century Catalan was already a fully-formed language, clearly distinguishable from its Latin origins. It appeared for the first time in written documents in the second half of the 12th century.
During the fifteenth century, Catalan reached its cultural peak. But after 1474, it went into decline. Following the War of the Spanish Succession (1705-1715), Philip V abolished all the government institutions in Catalonia and implemented Spanish laws. Catalan went through various periods of prohibition and even of repression.
The Catalan renaissance (Renaixença) began in the late 19th century with the economic progress of Catalonia. Catalan was reborn as the language of literary culture. In 1906 the first Catalan Language Congress attracted thousands, and in 1907 the Institut d'Estudis Catalans was founded. The Gramàtica catalana (Catalan Grammar) by Pompeu Fabra appeared in 1918. During the Second Republic (1931-1939), Catalan was restored to its official language status, but the Civil War in the same decade changed this.
Under Franco, 1939–1975), the use of Spanish over Catalan was promoted, and propaganda campaigns discouraged the public use of Catalan, and banned it from government-run institutions and public events. Parents couldn't even give their children Catalan names.
The language retreated into people's homes. But during later stages of the Francoist regime, certain folkloric or religious celebrations in Catalan were resumed. Use of Catalan in the mass media was forbidden, but permitted from the early 1950s in the theatre. Publishing in Catalan continued throughout the dictatorship.
There was no official prohibition of speaking Catalan in public or in commerce, but all advertising and signage, and written business communication, had to be in Spanish.
After Franco's death in 1975 and the restoration of democracy, the use of Catalan increased. The language is now used in politics, education and Catalan media.
Current Status
Catalan is taught as a separate subject and is the teaching medium at all levels of the education system in Catalonia. Children whose mother tongue is not Catalan learn the language at school. The Generalitat de Catalunya (Catalan autonomous government) has full control over primary and secondary schools, and the region's nine universities.
While across Europe so-called 'minority' languages are in decline, Catalonia seems determine to buck the trend.
What is Catalan Like?
Catalan is a modern Romance language. Although Catalan is closely related to Occitan, the language spoken in Southern France, French, Spanish and Italian are also close relations. Since it is derived from Latin, like its closest neighbours, it uses a Latin alphabet and has, for example, some 2,000 borrowed Castilian Spanish words.
Like French it takes both the acute and grave accents (as in é and è). Yet, despite these similarities with its linguistic neighbours, Catalan is also distinct from them in several ways – it's more than just a French/Spanish hybrid.
Once you have some knowledge of Spanish, you will be able to at least get the gist of much written Catalan, and catch a few words if someone is speaking to you in it.
However, if you are spending any length of time in Catalonia, it would be well worth formally learning some Catalan – the locals will appreciate your making the effort.
You might also like...