Spanish Phrases for Hotels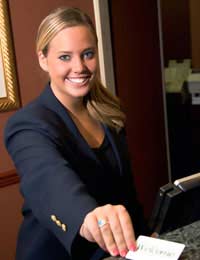 Many large hotels in the tourist areas of Spain are geared to English speaking customers. Visitors don't need to go very far from the beaten track, however, to find themselves in parts of Spain where little or no English is spoken. Even in large cities a small hotel or pensión owner may speak limited English.
An increasing number of British visitors are seeking out hotels and accommodation away from the tourist areas, seeking hotels that are typically Spanish rather than being generic international hotels that are the same the world over. A few Spanish phrases are all that are required to have an enjoyable stay in 'real Spain'.
Important Spanish Phrases for Hotels
It is not necessary to speak fluent Spanish in order to book a hotel room or ask simple questions. A few words can be used to ask a wide range of questions and are suitable for use in many situations.
A few key words form the basis of many key phrases that are useful when booking or staying in a hotel:
Hay – there is / is there?
Tiene – you have / have you?
Quiero – I would like
Tengo – I have
¿Cuánto cuesta? - how much?
Therefore by using the basic words above and adding relevant nouns, Spanish phrases that are useful for use in a hotel can be formed. For instance:
¿Hay una piscina? - is there a swimming pool
No hay papel higiénico en mi habitación - there is no toilet paper in my room
¿Tiene habitaciones? - do you have rooms?
¿Tiene el hotel acceso a Internet? - Does the hotel have Internet access?
Quiero una habitación - I'd like a room
Quiero una habitación con ducha – I would like a room with a shower
Tengo una reserva - I have a reservation
Tengo una problema – I have a problem
Useful Words
The following useful words can be used to create phrases that are suitable for many occasions:
Por noche – per night
Por persona - per person
Piscina – swimming pool
Cama – bed
Barato/a – cheap
Manta – blanket
Aire Acondicionado – air conditioning
Llave – key
La caja de seguridad — safe
El desayuno incluido - breakfast included
La habitación – room
Habitación individual – single room
Habitaciòn doble – double room
Tips for Using Spanish in Hotels
Here are some tips to help visitors to communicate successfully in hotels where little English is spoken:
Visitors who are not confident in their use of Spanish may find it useful to write down questions before going into a hotel. This can help to avoid any confusion.
Just as there are strong dialects throughout the UK, so there are strong dialects in some regions of Spain. Even the most experienced speaker of Spanish can find it difficult understanding Spanish in some areas of Spain. Don't be disheartened! Ask for a written reply if necessary.
Remember that in Spanish, the inflection is used to indicate when a question is asked, not the order of words as it is in English. Therefore a sentence using the word 'hay' meaning 'there is' needs to be said with an exaggerated inflection in order to express the fact that it is a question and not a statement.

You might also like...