Using Spanish in the Restaurant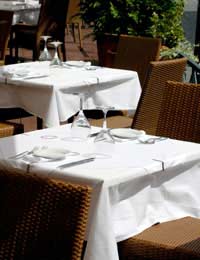 Eating out is, of course, one of the great pleasures of travelling, and restaurant visits are likely to be an important part of your time in the Spanish speaking world. A fantastic range of food and culinary influences and adventures await!
Let's start with the basic names for the main meals of the day:
Breakfast - el desayuno
Lunch - la comida/el almuerzo (By the way, comida is also the general noun for any meal and the word for food.)
Dinner - la cena
If you are booking a table ahead of your restaurant visit, the verb is reservar una mesa.
Or, if you're feeling peckish and looking for somewhere to eat, a good expression is:Tengo hambre. ¿Puede usted recomendarme un restaurante?
The most general translation of restaurant is el restaurante, or you may see also el comedor, literally, a dining room, to describe a rather basic eatery. In Mexico, lonchería is common, and in Costa Rica you may see signs for a soda.
Ordering
Once you're settled at your table, you'll want to ask the waiter (camarero) or waitress (camarera) for the menu (la carta) and maybe the carta de vinos or wine list as well. El orden is the word for order (noun), where as the verb 'to order' is an irregular one, pedir. You may want to go for the menu of the day – el menu del día.
When ordering, a good phrase to use is me gustaría, 'I would like':
Me gustaría el gazpacho y luego el pollo, por favor.
I would like the gazpacho (soup) and then the chicken, please.
A drink is una bebida, while the verb 'to drink' is beber, You may be asked ¿Para beber? (What would you like to drink.)
A Matter of Course(s)
Water and bread are routinely thrown in with meals out in Spain.
And as you are about to tuck in, the Spanish equivalent of bon appetit– very widely used, especially in Spain – is ¡Que aproveche!.
Look out for entremeses, which are small dishes, like appetizers. Other words for starters are entradas and primer plato (first course.) The waiter may well ask what you would like to begin your meal (para empeazr.)
Your main course is known as your plato principal or segundo plato, so don't be surprised if you are asked what you would like to eat de segundo (for your main course.)
Then to round it all off you'll be invited to order un postre, a pudding. And, by the way, there are some wonderful ones, especially flan (crème caramel) and crema catalan, the traditional custard from Catalonia, with its crunchy, caramelized topping.
If you're after coffee, and just ask for un café, por favor, you'll get a small, black cup. Here are the other versions:
Café solo - black coffee
Café cortado - coffee with a dash of milk (tends to come in a small cup)
Café con leche - comes in a bigger cup, coffee with (usually hot) milk
Paying
You'll need to ask for la cuenta (the bill), and the verb 'to pay' is a regular one – pagar.
A tip is una propina – and if you are offering someone a tip, Cobre esto de propina is how to say 'Please take this as a tip.'
Incidentally, usually, a 15% service charge is already ready added within the cost of the dishes, as shown by the words 'Sercivio incluido'. However, if you have really enjoyed your meal, you can always leave a further 1 or 2 euro per person.
Tapas
No piece on Spanish eating would be complete without a mention of tapas, the wide variety of appetisers. They can be cold (such as mixed olives and cheese) or warm – like fried, battered squid. Tapas are thought to encourage conversation, because people are not so focused on eating as they are if an entire meal that is set before them. Also, in some countries it is customary for diners to stand and move about while eating tapas. Tapa is also the word for 'lid' and the custom of eating tapas probably derives from the ancient custom of covering a drink with a piece of bread to keep off flies. In some parts of southern Spain, you may still be offered a free tapa with your drink, although this isn't as widespread as it was.
You might also like...