Colours in Spanish and How They Are Used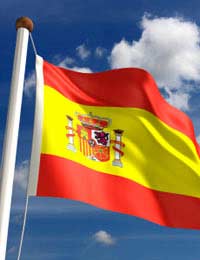 Colour is an important part of life and knowing a few Spanish words for colour can help make communication easier as well as increasing a person's understanding of the Spanish language. It can be surprising how often colour is used in language. Describing items by colour is often a key part of shopping and can be useful when shopping in a market or describing an item to a shop assistant. Colour can also have an important part to play in more serious circumstances too, for instance describing the cars in an accident or the description of someone involved in a crime.
Key Spanish Vocabulary – Colour
Here are some key Spanish words for colour:
Black - negro
Blue – azul
Brown - marrón
Brown (dark) – castaño
Golden - dorado
Green - verde
Grey – gris
Pink - rosa
Purple - púrpura
Red - rojo
Turquoise - turquesa
White - blanco
Yellow - amarillo
Shades of Colour
Colour can be described as light or dark by adding the following words:
Light - claro
Dark – oscuro
This is useful for describing the depth of a colour, for instance light red would be described as rojo claro or a dark yellow as amarillo oscuro.
Using Words for Colour in Spanish
In English, describing the colour of an item is very straightforward. In English, the word for colour (adjective) is always placed in front of the item it is describing (the noun), for instance the green car or the black dog.
In Spanish the way the words are structured is different. The adjective is always placed after a noun and must always agree with the noun that they describe in both number and gender. Therefore the correct way to describe a white cat in Spanish would be to say el gato blanco. A common mistake would be to say el blanco gato. While this is a direct translation of the English, it is incorrect in Spanish. Remember that the adjective should always come after the noun. Here are some examples:
El coche negro – the black car
El perro marron – the brown dog
El gato gris – the grey cat
The form also changes depending on the number of items that the colour is describing and the gender of that item. Therefore two black cars would be described as dos coches negros or two grey cats as dos gatos grises.
Where the noun is feminine, for instance flower (la flor) the form of the colour changes accordingly. Therefore a white flower would be described as la flor blanca. Two white flowers would be described as dos flores blancas.
Tips for Learning How to Use Colour in Spanish
There is no easy way to learn how to use colour in Spanish. As well as learning the vocabulary for colour, learners also need to understand how the form changes to match the item that the colour is describing. Learning and becoming fluent in all forms of colour vocabulary, including each gender and the endings for both plural and singular terms will help to build familiarity with the words and this in turn increases confidence.
Another useful exercise is to describe items in Spanish during the day. This can be done out loud to a supporting friend or family member or simply done silently. This low-level practice is ideal for getting familiar with the pattern of the Spanish language and can help learners gain confidence.
You might also like...
i really found this site very helpful as a college student! thanks
Yessie
- 27-Aug-11 @ 1:10 PM