Spanish to Use on the Beach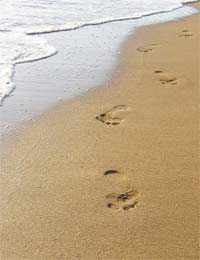 Wherever you go in the Spanish speaking world, a trip to the beach is likely to be a part of your visit.
To give you a flavour of life by the sea, Spanish style, we have included this short text in Spanish which contains much of the vocabulary you will come across on the beach.
Some of the key vocabulary, and a translation, are provided.
Un día a orillas de mar
Have buen tiempo hoy – no have frío, sino have mucho calor, y también have sol.
Es un domingo de verano. Hoy, Pedro, que tiene 15 años, no tiene que estudiar. Vive en Madrid, pero está de vacaciones con su familia, en Santander en la costa en el norte de España.
A Pedro le gusta mucho ir a la playa. Le encanta ver la arena, y bañarse en el agua de mar. Le gusta jugar en la playa con su hemana menor, Carmencita.
Pedro, Carmencita y sus padres tienen que llevar muchas cosas a la playa.
Necesitan toallas, gafas de sol, un balón de playa, una tumbona, una sombrilla y una protección contra el viento.
"¿Tienes la crema bronceadora?" pregunta mamá. "¡Cuidado que no te quemes!"
"Sí, claro," contesta Pedro. Pone su bañador rojo, y el gorro de baño de Carmencita en la bolsa, y ya están listos para la playa.
Una vez allí, salen en un hidropedal, juegan con las olas, toman el sol y entierran a papá en la arena. Compran helados del vendedor de helados. Pedro toma uno de fresa, Carmecita uno de chocolate. También comen un picnic al aire libre, y lo pasan super bien.
A las seis, tienen que volver a la casa de su abuela, dónde pasan sus vacaciones. Carmencita se pone a llorar, porque no quiere ir.
"No te preocupes, cariño," dice mamá. "Si have buen tiempo, mañana volvemos."
Vocabulary
a orillas de mar - by the seaside
la playa - beach
la arena - sand
agua de mar - sea water
el mar - sea
una ola - wave
bañarse - to swim (as in splash around, nadar is the verb for more serious swimming)
una toalla - towel
gafas de sol - sunglasses
ub balón de playa - beachball
una tumbona - deckchair
una sombrilla - sunshade
una protección contra el viento - windbreaker
la crema bronceadora - suncream
un bañador - swimming costume
el gorro de baño - swimming cap
tomar el sol - to sunbathe
un vendedor de helados - ice cream seller
un hidropedal - a pedal boat
enterrar - to bury
English Translation
A Day Beside the Sea
The weather is nice today. It's not cold but warm, and sunny as well.
It's a Sunday in summer. Today, Peter, who is 15, doesn't have to study. He lives in Madrid with his family, but he is on holiday with his family in Santander on the north coast of Spain.
Peter likes going to the beach very much. He loves seeing the sand, and swimming in the sea water. He likes playing on the beach with his younger sister, Carmencita.
Peter, Carmencita and their parents need to take lots of things to the beach with them.
They need towels, sunglasses, a beach ball, a deckchair, a sunshade and a windbreaker.
"Have you got the sun cream?" asks Mum. "Careful you don't burn."
"Yeah, sure," replies Peter. He puts his red swimming costume, and Carmencita's swimming cap, into the bag, and they are ready for the beach.
Once there, they go out in a pedal boat, play with the waves, sunbathe and bury Dad in the sand. They buy ice creams from the ice cream seller. Peter has a strawberry one, Carmencita a chocolate one. They also eat an open-air picnic, and have a great time.
At six o'clock, they have to go back to their grandmother's house, where they spend their holidays. Carmencita starts to cry, because she doesn't want to go.
"Don't worry, darling," says Mum. "If the weather's nice, we can come back tomorrow."
You might also like...