Spanish Phrases When Going Shopping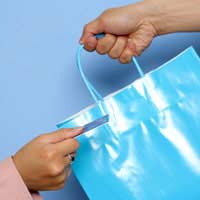 You will almost certainly do some shopping on your trip to a Spanish speaking country. It's a fantastic way of putting all that hard-learnt language into practice.
To give you the right vocabulary for your shopping expedition, have a look at the text below. We have included some vocabulary and an English translation, and you will find some grammar lessons from previous web pages incorporated as well.
Pedro Va de Compras
Hoy, Pedro tiene que ir de compras para su madre. Ella no quiere que vaya al supermercado, sino prefiere que su hijo visite tiendas distintas. La abuela viene a cenar con la familia esta noche, y mamá necesita varias cosas.
En primer lugar, Pedro va al quiosco cerca de su piso, donde recoge el periódico para su padre. Luego, va a la tintorería para recoger toda la limpieza en seco.
Después, entra en la panadería. El panadero le reconoce.
"Hola, Pedro," dice. "¿Qué necesitas hoy?"
"Un pan, por favor, Enrique."
"Muy bien. ¿Algo más?
"No, gracias. Es todo. ¿Tiene una bolsa por favor?"
"Sí, claro."
También tiene que pasar por la carnicería para comprar cinco chuletas para la cena..
Pedro lee su lista de compras nuevo, y ve que tiene que buscar un pastel, de postre.
"Quisiera uno de bizcocho," dice en la pastelería. Después, pasa por la verdulería y compra verdura para la cena. Pide medio kilo de patatas, y unas zanahorias.
Mientras que está en el pueblo, Pedro no puede menos de entrar en una zapatería en la calle principal, cerca del mercado. ¡Le encantaría un par de zapatillas deportivas nuevas!
"¿Le atienden?" pregunta el empleado.
"Sólo estoy mirando, gracias," contesta Pedro.
Ve un par de zapatos que le gusta mucho.
"¿Cuánto cuesta?" pregunta.
"Cien euros," contesta el empleado.
Pedro le pregunta si tienen un par más barato
El empleado dice que sí, y le muestra un par a setenta y cinco euros. Pedro se los prueba.
"Una pena, pero este par no me valen," dice. "¿Tienen un par más pequeño?"
"Lo siento, no."
Pedro sale de la tienda y vuelve a casa. Va a pedir a su madre el dinero para comprar las zapatillas deportivas más caras. ¡Después de haber hecho todas las compras, lo merece!
Vocabulario
una tienda - shop
el supermercado - supermarket
el quiosco - newsstand
la tintorería - dry cleaner's
la limpieza en seco - dry cleaning
la panaderíe - bakery
la carnicería - butcher's
chuletas (feminine) - meat chops
la pastelería - cake shop
de bizcocho - sponge (of a cake)
la verdulería - greengrocer's
las zanahorias - carrots
una zapatería - shoe shop
zapatillas deportivas - trainers (shoes)
Peter Goes Shopping
Today, Peter has to go shopping for his mother. She doesn't want him to go to the supermarket, but prefers her son to visit different shops. Grandmother is coming to have dinner with the family tonight, and Mum needs a few things.
First of all, Peter goes to the newsstand near his flat, where he picks up the newspaper for his father. Then, he goes to the dry cleaner's to collect all the dry cleaning.
Afterwards, he goes to the bakery. The baker recognises him.
"Hello, Peter," he says. "What do you need today?"
"One loaf, please, Henry."
"Sure. Anything else?"
"No, thanks, that's everything. Have you got a bag, please?"
"Of course."
He also has to go to the butcher's to buy five chops for dinner.
Peter looks at his shopping list again, and sees that he needs to look for a cake, for pudding.
"I'd like a sponge one," he says in the cake shop. After that, he goes to the greengrocer's and buys vegetables for dinner. He asks for half a kilo of potatoes, and some carrots.
While he is in town, Peter can't help going into a shoe shop in the main street, near the market. He'd love a new pair of trainers!
"Are you being served?" asks the shop assistant.
"I'm just looking, thanks," replies Peter.
He spots a pair of shoes he likes very much.
"How much?" he asks.
"A hundred euros, replies the assistant.
Peter asks him if they have a cheaper pair. The assistant says yes, and shows him a pair for 75 euros. Peter tries them on.
"It's a shame, but this pair doesn't fit," he says. "Do you have a smaller pair?"
"Sorry, no."
Peter leaves the shop, and goes back home. He is going to ask his mother for the money to buy the more expensive trainers. After doing all the shopping, he deserves them!
You might also like...