Free Resources to Help Learn Spanish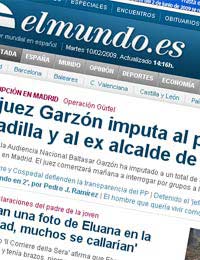 Many Spanish learners will be surprised by the exciting range of free resources that are available to them via the Internet. This opens up opportunities that would have been impossible only a few years ago.
A Spanish learner, for instance, can talk with native Spanish speakers, look at Spanish newspaper websites, access online Spanish lessons, watch Spanish video and much more, all from the comfort of home. This presents a wonderful opportunity to both learn and improve Spanish in interesting and diverse ways.
Spanish Language Newspapers
Most Spanish newspapers have websites and these can be a useful source of information. Many people find learning and retaining Spanish easier when it is in an interesting or contemporary context. Reading today's news stories in Spanish is a useful way of improving Spanish and learning new words.
El Mundo
and
El País
both have sophisticated websites.
Marca
is a football focused newspaper and the website will provide interesting reading for Spanish learners interested in sport. Advanced beginners will find it best to start with a short and recognisable news story, as long articles may prove daunting and if there is no context, difficult to translate.
Free Spanish Lessons
There are many free Spanish lessons available online for learners of all ability. These range from free 'taster' lessons offered by online language schools, through to lessons delivered by podcast through to full courses. The quality of online courses can vary and some material may not be of high standard. This is very much the exception however, with many classes being of extremely high quality. Two well known names who offer high quality and free Spanish classes are the BBC and the Open University (under 'OpenLearn').
Free Spanish Video
Video sharing websites offer a wealth of material for Spanish learners. As well as there being a large number of Spanish language videos of every genre featured on these sites, people will also find videos that have been specifically created for people learning Spanish. These include short videos covering pronunciation and videos that can be used for comprehension exercises. Videos that are viewed online can be stopped and started giving plenty of opportunity for looking up words or points of grammar. Keep a notepad to hand to make notes of any unfamiliar words or phrases.
Spanish Language Radio
Many Spanish language radio stations offer an online streaming service allowing the radio to be played over the Internet. This is an excellent way for learners to familiarise themselves with the sound of the language. Even the adverts on commercial radio can be useful as these are often accompanied by telephone numbers and this is a good way to get used to the sounds of different numbers when they are read quickly. There are directories that list radio stations with online streaming services.
Specialist Websites
Just as there are English language blogs, personal websites or special interest websites that cover virtually every conceivable subject, so there are in Spanish. These present a great opportunity for people to learn Spanish that is relevant to an interest. People interested in skiing or snowboarding, for instance will find it beneficial to find and read Spanish winter sport websites. Someone interested in cooking or crafts will find many websites that specialise in Spanish recipes or craft projects. The best way to find relevant and interesting sites is through a web search tool. Remember that many of the large global Internet sites use the .es extension. Use this to find Spanish language sites. The normal .co.uk sites will typically not return Spanish language results.
Online Translation Tool
Online translation tools are a wonderful tool to help Spanish learners. These tools will quickly translate a full web page and this is useful for getting an overview of the content of a page. It is also a quick way to translate a word if a dictionary is not to hand. It must be remembered, however, that while these are a great resource, they are far from perfect. The most accurate results are achieved when typing in just one or two words. A translation tool offers a good guide, and is very helpful to get a broad understanding of a web page, but should never be relied upon.
There are many free and exciting resources that will help to make learning Spanish fun. Learners may be surprised at the number of free resources available.
You might also like...