Introductions in Spanish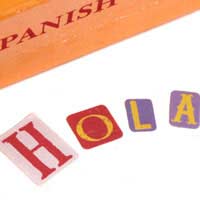 One of the first things you will want to do when you get to Spain or Latin America, feeling fired up to practice your newly acquired Spanish, is to get out and meet people.
You'll be keen to be able to learn people's names, and a little about them, and convey some basic information about yourself. Equally, most people across the Hispanic World are warm, polite and friendly, and will be keen to know who you are.
Here are a few common expressions to start you off, and to help break the ice.
I have included the phrases without much grammatical explanation at this stage – that will come later in the site. But for many of them, it's just a case of remembering them, anyway. They will soon become second nature.
Saying Hello and Good Morning
Buenos días - Good morning (literally 'good mornings' or 'may you have good mornings') Buenas tardes - Good afternoon or good evening (in Spanish there is no distinction between the two. After about 2pm, it's all the same until bedtime.) Buenas noches - Good night (most commonly used when taking your leave at the end of an evening.)Hi - Hola (it's informal, but widely used)
How's it Going?
Most conversations are going to kick off with asking someone how they are. Here's how to say it in Spanish: ¿Cómo estás?
Note the inverted question mark, always put at the start of a question in this way. Also be aware that this is the familiar form of the verb estar, one of two Spanish verbs 'to be'. (These are explained elsewhere on the site.)
If you are speaking to someone more formally, use ¿Cómo está? instead. To address more than one person, say ¿Cómo estaís? (familiar) and ¿Cómo están? (formal).
To be more casual (and to avoid the tú/usted situation altogether) you can always say ¿Qué tal? – how's things? Muy bien, gracias. (I'm fine, thanks.) If you want to reply by asking someone how they are, say ¿Y tú? (or usted) – meaning 'And you?'
Please and Thank You
Please in Spanish is por favor, and thank you is simply gracias. If you're really grateful, muchas gracias means thank you very much. If you're telling someone you're welcome/don't mention it, say de nada.
My Name Is …
To say 'My name is Juliet', use:
Me llamo Juliet
Literally, this means 'I call myself.' It's a reflexive verb – of which more later.
To ask someone their name, say:
¿Cómo te llamas?
Or
¿Cómo se llama? if you are using the polite form.
The plural versions would be ¿Cómo os llamáis? (familiar) and ¿Cómo se llaman? (formal) for speaking to more than one person.
Yes and No
You may well know these anyway – but these important little words are Sí and No. The Spanish word for 'and' is 'y'.
Saying Goodbye
Most people have heard of adios. Feel free to use it. But you are probably more likely to hear hasta luego (literally 'until then', or until the next time you see the person you're saying goodbye to.)
If you're likely to be seeing someone the next day, you can use that old Abba song - hasta mañana.
You might also like...