Learn About Tapas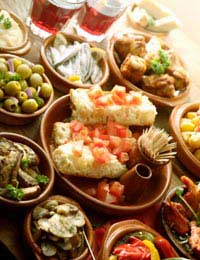 In Spain, tapas are small dishes of food that are served with drinks in bars. They can range from a handful of olives or peanuts through to small portions of elaborately cooked hot dishes. Tapas are typically served free along side a drink, however some bars and restaurants do charge.
The purpose of tapas is to provide a tasty snack with a drink and in Spain they are not regarded as being a main meal. Many bars are proud of their reputation for tapas and use this as a means for attracting and keeping customers. These bars are often featured in tourist guides and other literature. Tapas are served throughout the day and well into the evening.
Tapas Etiquette
Tapas etiquette varies very much depending on the region of Spain that someone is visiting and the type of bars frequented. In some bars, for instance, a range of tapas will be displayed in hot and cold cabinets and customers can choose what they like. In other bars there may just be a single type of tapas on offer.
Tapas are eaten with forks or sometimes just a wooden cocktail stick. Tapas are often served with bread or small bread sticks. In bars that charge for tapas, a menu board will clearly state the different options and the price for a tapas sized portion. Tapas will be served with every round of drinks and it is therefore prudent to indicate when ordering the drinks if further tapas are not required.
Types of Tapas
Many popular Spanish dishes are served as tapas. These include:
Patatas Bravas – this popular tapas dish of fried potato in a spicy tomato sauce is served hot.
Jamon – cold sliced jamon is often served on slices of bread. Jamon Iberico de la Bellota is an air cured ham that comes from pigs that have been raised on a diet of acorns. This is a highly regarded delicacy.
Queso – a range of quesos (cheese) are served as tapas. These are often served with bread or bread sticks. The cheeses range from manchego, which is a tasty hard cheese through to queso fresco which is a soft bland cheese.
Tortilla de Patatas – this thick potato omelette is served hot or cold. It is often served in small squares. Sometimes other ingredients are added such as onion, jamon or other meats.
Empanadas – these small 'pasty' style tapas are often filled with meat or fish and vegetables.
Croquetas – croquetas are similar to potato croquettes, although meat and fish are often added.
Aceitunas – many bars serve a portion of olives as a tapas. These can be plain and unseasoned or olives that have been marinated in herbs and spices for many months to create a tasty delight.
Mariscos – a selection of seafood is often offered as tapas.
There are many other types of tapas. Many bars have their own specialty or recipe that has been in the family for generations.
Tapas Tips
Here are some tapas tips:
Bars in tourist areas will often have translations explaining what different tapas are and the ingredients. This is less likely in rural areas or outside of the larger cities. When off the beaten track, be prepared to point to get a certain dish!
Vegetarians may find that there are a limited number of tapas available to them. Even apparently vegetarian dishes may have a small piece of meat or fish added.
Tapas are regarded as a snack and not a main meal. People looking for more substantial portions should ask for the raciones menu.It is not regarded as polite to ask for something that is not on the tapas menu.
Tapas is an important part of the Spanish culture. Experiencing tapas is part of experiencing 'real Spain'.
You might also like...