Fun Ways to Help Learners Improve Their Spanish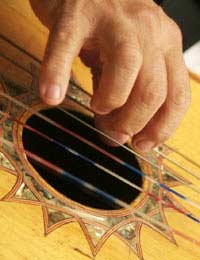 One reason why many people give up learning a language such as Spanish is that it can be boring. Simply learning new words or conjugating verbs can quickly lose its appeal. Add in some fun or interesting activities, however, and enthusiasm for Spanish can soon be rekindled.
Have a Spanish Party!
For Spanish learners who are learning in a class or group, why not try holding a Spanish themed party. Guests will only speak Spanish and this is a great way to practice the language in an informal setting. Many people find that their confidence increases in informal settings when they are feeling relaxed and not under pressure.
Guests should each bring a typical Spanish dish. This could be tapas or something more substantial. A brief written description (in Spanish) should accompany it. Playing traditional party games can be a very effective way of encouraging people to mix and talk. For example, attach the name of a famous Spanish person to the back of each guest. By asking questions (again, in Spanish), each guest should try to find out who they are. Spanish music will help to set the atmosphere. If there isn't a suitable venue, then perhaps a local pub may be willing to host such an event.
Label Household Items
An easy way to start learning the names of household items is to label them with the Spanish name. Simply write the word on to a piece of paper and attach this with a low tack tape such as masking tape. This is a useful way of learning as it helps to reinforce the image of an item with the word. This also gets the whole family involved and is a fun way for the entire family to learn a few extra Spanish words. This can be developed further by adding relevant adjectives and verbs to the paper.
Spanish Magazines and Newspapers
One way of making Spanish come alive is to read it in a context that interests the learner. Any language appears dry when it is just a few words on a page, however put this into another context and it becomes useful and interesting. Someone who is interested in cooking, for instance, may well find that it is easier to read and comprehend a Spanish cooking magazine than exercises in a text book. The same applies for a football fan, who will find reading about recent matches in a newspaper an interesting way to improve vocabulary and language skills.
Finding and buying Spanish magazines or newspapers is relatively easy thanks to the Internet. Large Internet auction sites, for instance, are a good place to look for second hand magazines. Remember that Spanish versions of well known websites have a .es extension.
Spanish DVDs
Many DVDs are available in a selection of languages including Spanish. This is a very useful way for learners to familiarise themselves with spoken Spanish. Children's films may offer a good alternative for beginners who find feature films difficult to follow in Spanish. Some films have subtitles and this is another useful way of connecting Spanish words to sounds. Viewers can stop and start the DVDs at will, looking up any unknown words.
When watching Spanish DVDs keep a pen to hand and make a note of any unfamiliar words that frequently occur. This is a useful way of extending common usage vocabulary.
Tips
Here are some tips to help get the most from fun and interesting Spanish learning techniques:
Always set some goals for any learning activity – however informal it may seem. While this may seem dull, it is one of the best ways of ensuring that progression is achieved.
Mix and match activities, so one week watch some Spanish language video and another week do more conventional activities such as leaning vocabulary.
Think 'outside the box'. There are many other fun ways to help learn Spanish, for instance listening to Spanish popular music, looking at Spanish websites and much more.
Fun and interesting activities will help even the most reluctant learner improve their Spanish.
You might also like...