Clothes: Spanish Vocabulary and Tips on Sizes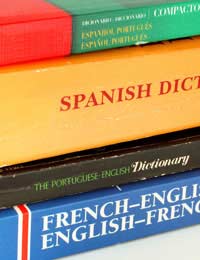 Knowing the Spanish words for key items of clothing is useful for visitors to Spain or other Spanish speaking countries and can be particularly helpful when shopping. While shopping in large department stores is very straightforward, being able to ask for a certain item of clothing or asking about size can make the shopping experience more relaxing.
Here are some basic words and vocabulary for key items of clothes. These are common terms that are widely used although slang terms or colloquialisms may also be popular in some areas, particularly in high fashion stores.
Spanish Vocabulary – Clothes (Ropa)
Blouse - la blusa
Sweater - el jersey
T-shirt — la camiseta
Shirt — la camisa
Coat — el abrigo
Dress — el vestido
Jacket — la chaqueta
Raincoat — el impermeable
Jeans - los vaqueros
Trousers — los pantalones
Shorts — los pantalones cortos
Skirt — la falda
Swimsuit — el bañador
Underwear — la ropa interior
Footwear
Boots — las botas
Sandal — la sandalia
Slipper — la zapatilla
Sock — el calcetín
Accessories
Cap - la gorra, el gorro
Hat — el sombrero
Sunglasses – gafas de sol
Belt — el cinturón
Gloves — los guantes
Bag — el bolso
Describing Clothes
As with all nouns in Spanish, when describing clothes the adjectives are placed after the noun. Therefore a red hat will be described as
el sombrero rojo
, or a big bag as
el bolso grande
.
Buying Clothes in Spain
When shopping for clothes in Spain it is useful to know a few phrases that will help to communicate with the shop assistant. Some key phrases are:
How much is it? - Cuánto es?
I would like to try... - Quiero probar…
I like - Me gusta
I prefer - Prefiero
I will take it - Me lo llevo
Sizes
What size? - Qué talla?
Small - Pequeño
Big - Grande
Bigger - Más grande
Clothes Sizes in Spain
There are standard clothes sizes in Spain. This compares with UK clothes sizes as follows:
Spain 36 38 40 42 44 46 48 50
Britain 8 10 12 14 16 18 20 22
Shoe Sizes in Spain
Spain
37 ----- 38 ----- 39 ----- 41----- 42 ----- 43 ----- 44 ----- 45 ----- 47 ----- 48
Britain
4 ------- 5 ------- 6 ------7 ------ 8 ------- 9 ------10 -------11 ------12 ------13
Note on Buying Clothes in Spain
While there are standard clothes sizes, these may not always be strictly applied. Many clothes are smaller than their size would suggest. It is a good idea to try clothes on before buying to make sure that they are the correct size. As in the UK, many fashion stores focus primarily on smaller sizes however larger sizes can be found in a wide range of other stores.
Tips for Learning More about Clothes in Spanish
There are many ways to learn more about Spanish clothes and fashion as well as finding out more about buying clothes in Spain. Many of the large department stores have websites and these can be a great source of information. Not only do they provide an insight into the ways that Spanish is used to describe clothing, they are also a good indicator of the latest Spanish fashion.
Websites such as these can be a useful resource for people looking to learn more about Spanish culture. Other ways to learn more about Spanish clothes is to look out for Spanish language magazines. These can often be found in the international section of large newsagents and provide another useful insight.
You might also like...