Spanish for Finding Directions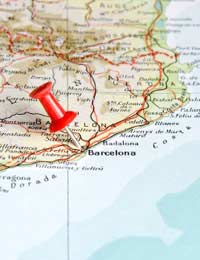 Wherever you go in the Spanish-speaking world, you'll want to find your way around. Asking for directions is a great way of practicing your language skills, and an excellent excuse for approaching strangers. You could ask for assistance even if you don't really need it, just to get some more Spanish in.
Why not practice Spanish directions in your head as you walk or drive around, or even out loud if you are brave enough!
Here we have included a short text in Spanish which gives many of the expressions you to ask for and understand directions. We have also listed the relevant vocabulary, and given an English translation. Try to read and understand the Spanish first, though.
Pedro y su familia en Segovia
Pedro, sus padres y su hermana están en Segovia. Para ellos, es una ciudad nueva. Han llegado por tren. Salen de la estación de trenes, y andan por la calle principal.
Primero, quieren visitor la catedral, pero no saben dónde está.
"Por favor," pregunta papa a un transeúnte. Nos hemos perdido. Busco la cathedral. ¿Nos puede decir dónde está? ¿Está lejos? "
"Claro. Está cerca. Sigan esta calle todo recto, luego, después del cruce, tomen la segunda calle a la derecha. Se encuentra al otro lado del semáforo."
"Muchas gracias."
En la catedral, compran un mapa de la ciudad. Carmencita, la hermana pequeña de Pedro, compra una tarjeta postal para su amiga Isabel. La escribe mientras la familia toma un café en un restaurante delante de la catedral, después de su visita allí.
Luego, Carmencita insiste en mandar su tarjeta por correo en seguida. En el mapa, no está muy claro dónde se encuentra la oficina de correos, o sea que el camarero les da indicaciones.
"Está un poco lejos, pero bastante fácil encontrar," dice.
"Debemos coger un autobús o un taxi?"
"No have falta. A esa esquina, tomen la Avenida Juan Carlos I. La tienen que seguir medio kilómetro, hacia la biblioteca. Es un edificio blanco muy grande a la derecha. Allí, deben doblar a la izquierda. Después de dos cientos metros, ya llegarán al Correos. "
"Gracias," dice papa. "¡Cobre dos euros de propina!"
Vocbulario
la estación de trenes - train station
la calle - street
un transeúnte - passer by
cerca - near/nearby
lejos - far
la izquierda - left
la derecha - right
el cruce - crossroads
enontrarse - to be situated (literally, to be found)
el semáforo - traffic light
la esquina - (street) corner
la biblioteca - libarary
doblar - to turn
Peter and his family in Segovia
Peter and his parents and sister are in Segovia. It's a new city for them. They have arrived by train. They leave the station, and walk down the main street.
First of all, they want to visit the cathedral, but they don't know where it is.
"Excuse me," Dad asks a passer-by. We're lost. I'm looking for the cathedral. Could you tell me where it is? Is it far?"
"Of course. It's nearby. Follow this road straight ahead, then, after the crossroads, take the second street on your right. You'll see it on the other side of the traffic lights."
"Thanks very much."
In the cathedral, they buy a map of the city. Carmencita, Peter's little sister, buys a postcard for her friend Isabel. She writes it while the family has a coffee in a restaurant in front of the cathedral, after their visit there.
Then Carmencita insists on posting her card straight away. It's not very clear from the map where the post office is, so the waiter gives them directions.
"It's some way off, but quite easy to find," he says.
"Should we get a bus or a taxi?"
"That's not necessary. At that corner, take Juan Carlos I Avenue. Follow it for about half a kilometre, going towards the library - a big white building on your right. Turn left there. After another 200 metres, you'll be at the Post Office."
"Thanks," says Dad. "Have a two euro tip!"
You might also like...