Spanish Words to Watch Out For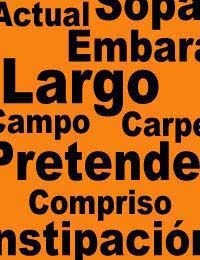 Learners of Spanish find that many Spanish words are similar to their English counterpart. This makes learning the language a little easier as some words are already familiar. These words share the same origin and are known as cognates.
False Friends
This can lead an unsuspecting learner, however, into a false sense of security as not all words that look similar are similar in meaning. There are pairs of words that look similar but have a very different meaning. These are known as 'false friends' or 'falsos amigos' and their use can change entirely the meaning of a conversation. One word that is often used as an example is the Spanish word, Embarazada. This looks very much like the English word 'embarrassed', however it is actually the Spanish word for 'pregnant'. This opens up the opportunity for all sorts of confusion – as well as a smile or two!
False friends particularly catch people out when reading text. This is because the mind immediately connects familiar words and meanings. There is no easy way to identify Spanish false friends, therefore learning the main ones will help learners recognise the potential for misunderstandings. Here is a list with Spanish meanings for some of the key false friends.
Spanish Words to Watch
The Spanish words are shown in italics.
Actual – current. The word for 'real' is verdadero.
Campo – countryside or field. The verb for camp is acampar. Campo also refers to fields when filling in forms.
Carpeta – file or folder. Users of computers that use Spanish operating systems will be asked what carpeta they want to save a document in. Carpets are alfombra or tapete
Compriso – a commitment. A compromise is un acuerdo or un arreglo. This is an important difference to remember.
Constipación – cold. It is important to remember that constipación is a cold and that estrenido/a is constipation, particularly when going into a chemist and asking for medication.
Embarazada - pregnant. Another important one to remember. To express that you are embarrassed you would say me siento avergonzado/a.
Éxito - success. People looking for the exit will look for la salida.
Largo – long. If something is large or big it is grande.
Once – eleven. When something is happening once or a single time it is una vez.
Pretender – to try. The verb to describe someone or something as fake is fingir.
Sopa – soup. Soap is jabón (note the difference between this and jamon which is a type of ham)
Tuna – a traditional college band. Atún is the fish.
While this may seem daunting or worrying for a learner, it is important to remember that the mistaken use of these words has gone on for many years. Someone muddling up the meaning of a false friend certainly won't be the first and undoubtedly won't be the last.
Tips for Finding and Learning False Friends and Other Challenges
The above list contains some of the main words to watch out for. There are many other challenges that a learner of Spanish will face. A subtle change in pronunciation, for instance, can completely alter the meaning of a word, and it won't be until being faced with a bemused expression of a Spanish speaker that someone will realise that they are on the wrong track.
Many learners find it useful to keep a notebook to hand and to make a note of any special or unusual aspects of Spanish. This provides a useful reference document and is a great way to revise. Speaking with other learners and comparing notes and experiences is another useful way of finding out more about the potential pitfalls awaiting people putting Spanish into practice.
You might also like...