Gender of Nouns in Spanish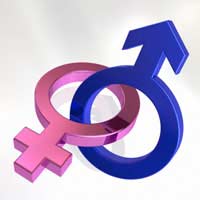 The word gender means kind or type. In Spanish, nouns (and remember, a noun is a person, place or thing) take one of two genders – masculine or feminine. There is no neuter gender. All nouns are masculine or feminine, whether they refer to living creatures or not.
You can often tell a noun's gender by thinking about what the word means, or by looking at its ending.
When learning new Spanish vocabulary, it's important to try and learn the new word and its gender at the same time.
The Definite Article
The definite article (in English 'the') has four forms in Spanish:
el in front of masculine singular nouns – el chico=the boy
la in front of feminine singular nouns - la chica= the girl
los in front of mixed or masculine plural nouns – los chicos= the boys or los niños (the children) could be a group of boys and girls
las in front of specifically female plural nouns - las chicas = the girls
Because it sounds easier, the masculine article el is used before singular feminine nouns which begin with a stressed 'a' or 'ha'. So we say el agua (the water) even though it is feminine.
After the prepositions a (to/at) or de (of/from), el contracts to become al and del – so al río and del río mean 'to the river' and 'from the river' respectively.
Telling Gender by Meaning
In the case of humans and common domestic animals, male beings are of course masculine, and female ones feminine. So el homre (the man), the mujer (the woman), el hijo (the son), la hermana (the sister) la vaca (the cow), la perra (female dog)
For family relations, you often just change the gender of the same word – so el tío and la tía are uncle and aunt respectively, el hermano and la hermana are brother and sister, el hijo becomes la hija (the daughter.)
Please note, however, that, with animals, the gender isn't necessarily the same as the sex of the beast itself. So that the word for 'rat' is 'la rata' for male and female rats. Other examples:
la girafa (giraffe) el oso (bear) el ratón (mouse)
Note that most fruit trees are masculine, and their fruit feminine. So that el cerezo is cheery tree, while la cereza is the word for cherry; una manzana is the word for apple, but el manzano means apple tree.
The following are masculine nouns: Rivers, oceans, seas, lakes and mountains (regardless of ending) – so el Caribe, the Caribbean, el Amazonas, the Amazon.
All numbers, months and days
Infinitives of verbs – remember is a doing word (swimming, running, jumping working etc) and the infinitive is the version most commonly listed in dictionaries. It names the activity without saying when it happens – e.g. hablar, to speak. So – El fumar es malo para la salud - Smoking is bad for your health.
Feminine nouns include:
Letters of the alphabet – una g, la mIslands – as in las islas, so Las Canarias is understood as the Canary Islands. Medical terms ending in –osis – e.g. la diagnosis (diagnosis)
Gender by Ending
Most Spanish nouns ending in 'o' are masculine, and most ending in 'a' are feminine. So el brazo (arm) and la pierna (leg).
But, with some words, the 'o' and 'a' endings change the meaning. So 'el libro' is book, while 'la libra' is pound (as in weight and sterling currency.) Equally:
el puerto (port) but la puerta (door)
Here are some common exceptions:
la moto (motorbike) la foto (photograph) la mano (hand) la radio (radio)
Many masculine nouns whose last letter is 'a' have an –ma ending:
el programa (programme) el sistema (system) el clima (climate)
Nouns ending in a stressed vowel (e.g. el sofá, el champú) are masculine, as are words ending in –cida, e.g. insecticida.
Other word endings which indicate masculine gender include:
-aje (e.g. el garaje)
-or (e.g. el color) although there are exceptions, like la flor
The following endings denote feminine gender:
-ión (e.g. estación), -dad, -tad, -tud (e.g. la bondad (goodness), la virtud (virtue) )
Nouns ending in –umbre, e.g. la incertidumbre (uncertainty)
Nouns ending in –i.e. (e.g. la superficie, surface)
Nouns ending in –is (e.g. la crisis, crisis)
Note that the names for countries are feminine if they end in an unstressed 'a' (like Argentina). Otherwise, they tend to be masculine.
You might also like...