Learning Spanish: How to Pick a Private Tutor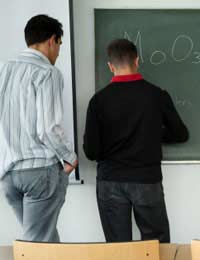 Many Spanish learners find that using a private Spanish tutor is an effective way to learn or improve Spanish.
Benefits of Private Spanish Lessons
Using a private Spanish tutor has many advantages over independent learning or learning through a class. Some of the advantages of a private Spanish tutor are:
Private tutors offer one on one teaching which means that the lessons are completely focused on the learner and not on a larger class where the learner will be one of many.
Classes can be tailored to a learner's specific requirements, for instance studying for exams, learning business Spanish or other learning requirements that are difficult to achieve in a class.
Learning with a private tutor often means that the learner picks up Spanish quickly as the lessons can be more intensive.
Some learners find learning easier with a private tutor. This includes learners who find it difficult to speak up in front of a class of relative strangers or who have difficulties with a specific area of Spanish, for instance grammar, which may not be covered in detail in a class or when learning independently.
How to Pick a Private Tutor
While there are very real benefits of using a private tutor to learn Spanish, this is only true when the student and tutor have a good relationship and that the tutor is able to provide the form of tuition that is best for the student. Where a student and tutor do not get on or if the tutor is not providing the tuition required, a student's time and money will be wasted and their learning set back significantly. Time spent in picking the right Spanish tutor therefore, is time well invested. Here are some tips to help learners pick the right Spanish tutor:
Word of mouth – there is no better form of reference than word of mouth referrals. Speaking with other students will give a learner an idea as to the quality of a tutor's teaching and any issues that may arise. Most tutors will be happy to provide reference details.
Personality - the relationship between a tutor and student can be quite personal. A tutor may come to a student's home or the student may go to the tutor's home and they will be spending time together. It is therefore important that they get on well together. A student will need to respect the tutor as well as being able to relax in their company in order to get the most from lessons.
Specify requirements – if a Spanish learner is looking for support in a specific area or needs lessons in a particular type of Spanish then this should be clearly stated at the start. For instance, if a student is looking for help with grammar or wants to learn business Spanish then this information should be given to a tutor before the classes start so the tutor can tailor the classes accordingly.
Material – a student should ask what material the tutor uses as part of their lessons and make sure that it is relevant. For instance a student who is learning Spanish at school and is looking for additional support, may want the tutor to use similar books or course structure.
Native speaker – it is not always important for a private tutor to be a native Spanish speaker, however this can be a definite advantage if a student is looking to improve their spoken or conversational Spanish.
Spending a little extra time finding the right Spanish tutor is time well spent. A good Spanish tutor who has a great rapport with their students can be a tremendous asset when learning Spanish. Finding the right tutor can make a significant difference and this is a point that should not be overlooked.
You might also like...