I Learnt Spanish Without Formal Lessons: A Case Study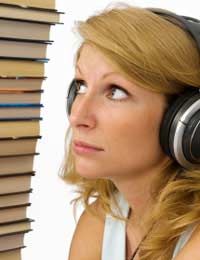 Learning Spanish without formal lessons has never been easier! There are many tools and materials available that can help even complete beginners become proficient in this vibrant language. These range from traditional language learning CDs available for purchase or from libraries through to free resources that are available on the Internet. It is possible to use these resources together to learn Spanish without the need for formal lessons – as Lucy shows in our case study.
Lucy's Story
The combination of working long hours and a lengthy commute by train made committing to attending evening classes impossible for Lucy. "I would never know from one day to another what time I would be home and I had tried to attend classes in the past only to find that I have had to give them up after a couple of weeks because of my job". This was a big disappointment to Lucy who had long wanted to learn Spanish. "I love Spain" explains Lucy "I like the country, the culture and the people. I hope one day to spend more time in Spain, but first I knew I needed to learn the language".
Rather than give up, Lucy decided to take a look at what alternatives there were to formal lessons. Lucy knew of language CDs, remembering language learning tapes from her childhood. However the range of different CDs available from the local library was extensive. Lucy started by borrowing a beginners course in Spanish from the library. "I decided to use my commuting time as learning time. I played the CDs while I was travelling on the train and I felt I was making really productive use of my time". Lucy then invested in some Spanish text books which gave an important reference source and she felt that these were useful to use in conjunction with the CDs.
Using the Internet to Improve Spanish
Keen to develop her Spanish further and to ensure that she was learning contemporary Spanish, Lucy started using the Internet in the evening to look at Spanish language websites. "I would often refer to Spanish news sites to catch up on the day's news. While I don't understand every word, I keep a dictionary on hand or use an online translation service to help. I keep a note of the words that I have looked up so I can add them to a list of vocabulary to revise". Lucy also watches Spanish language videos on video sharing websites and has recently started practicing her vocabulary with native Spanish speakers over the Internet.
How would Lucy now describe her Spanish? "Good" says Lucy "now that I am able to converse reasonably fluently, I find that I use my Spanish more and this means that my Spanish is improving all the time. I still use my commuting time to learn new words and grammar, I practice my pronunciation with native speakers and I try to spend a few hours a week reading Spanish articles on the Internet. I have found that this flexibility plus the wide range of materials available to me have meant that I have been able to learn Spanish in a manner that I would have thought was impossible just a few years ago!"
Lucy's Tips
Lucy has been successful learning Spanish without formal lessons. She has some useful tips to help people get the most from this approach that she would like to share:
Draw up a plan – although Lucy's approach is informal, that doesn't mean that a formal learning plan shouldn't be drawn up. Lucy set herself regular goals and checked her achievements regularly.
Be Strict with yourself – Lucy treated her learning Spanish at home in the same way that she would if she had gone to a class. She set aside certain time for learning Spanish at home and ensured that she did not get diverted from her lessons.
Practice with others – Lucy points out that learning Spanish without formal Spanish lessons can be an isolated task. This means that it can be lonely, but perhaps more importantly, it also means that bad habits can form. Meeting other people using Internet chat rooms or forums is a great way to keep motivated. It also offers a good opportunity for people looking to meet others to practice speaking Spanish.
There are many different ways of learning Spanish and, as Lucy has demonstrated, learning Spanish without formal lessons is a real possibility given a mix of hard work and determination!
You might also like...