We Learnt Spanish as a Family: A Case Study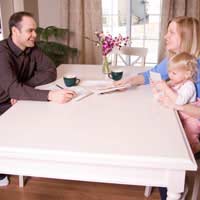 There are many reasons why a family might want to learn Spanish together. This includes learning Spanish for a holiday or long stay in Spain, to help children with their school studies or simply as a fun family activity. Learning Spanish as a family needn't be difficult, the Connor family have been learning Spanish for the last three years and have lots of tips to share.
Why Learn Spanish as a Family
The Connor family have enjoyed many holidays in Spain. John and Sally first went to Spain for their honeymoon and have gone every year since with their children Jack and Lilly. They enjoy getting off the beaten track and trying to find the 'real Spain' that is often lost in the more popular tourist areas. This means that they often travel to areas of Spain where English is rarely spoken.
"We felt that we were missing out and perhaps not getting the most from our holidays" John said "as although we could get by with a lot of hand gesturing and smiling, we often missed interesting sights as we just couldn't understand signs or what people were saying. For many years we'd return from Spain with the aim of taking Spanish classes – only to find that another year passed and that we were no further forward!"
When son, Jack, started school John was delighted that there was an option for him to learn Spanish. "This was the kick-start that we needed" John commented. "Rather than leave all the learning to the kids, Sally and I decided that we would use this as the incentive for us to start learning Spanish".
Learning Spanish at Home
Like many young families, attending night school was difficult for John and Sally so they looked for alternative ways to learn Spanish at home.
"We had borrowed tapes and CDs from the library in the past" said Sally "but we didn't do very well. Life always seemed to get in the way! However once we made our minds up that this is what we were going to do and we were going to learn as a family, then we became much more focused."
John and Sally drew up a learning plan and scheduled some time each week to follow CD Spanish courses. They also included young Lilly in their plans and found some early-learners Spanish lessons.
"Lilly was like a sponge" Sally said "she absorbed everything that she was shown and found learning very straightforward".
The family set aside some time every week to take part in family learning activities. "We tried to keep it fun and interesting" John commented "the kids enjoy learning with us, but they also enjoy playing computer games or chatting with their friends, so unless we kept it exciting, we realised that we would soon lose them!"
The family arranged different things each week and this ranged from cooking a Spanish meal at home, following authentic Spanish recipes through to watching a football game with Spanish commentary.
"This was perhaps our least successful activity" joked Sarah "I have limited understanding of football at the best of times, however with the commentator speaking so quickly, I was completely lost! The boys enjoyed themselves though...".
The Connor family use Spanish vocabulary at home as much as possible. When they started they labelled all the household items with the Spanish translation. All the family soon got into the habit of using the Spanish words for every day items, much to the confusion of visitors! "This was a simple way to get us used to the sound of Spanish and familiar with pronunciation" commented John "we then built on this by learning the relevant adjectives".
How Is It Going?
Since the Connor family started learning Spanish together three years ago, they have had two successful family holidays in Spain where they have been able to practise their Spanish with native speakers. "This has been invaluable" said John "we learnt more during our holidays as we were able to understand when local people kindly corrected us. It was very gratifying to see how much we had improved as a family. Jack was quite happy to join in a game of football with a team of Spanish boys in a village where we were staying and Lilly made friends with people young and old. We were much more confident than we had been in the past and were definitely happier exploring parts of Spain that were off the pages of the guide books."
Tips from the Connor Family
John and Sally Connor have kindly shared some tips:
Make a learning plan – it is very easy not to start or to drift off in different directions. A plan also helps to add focus and to ensure that time is set aside to learn as a family.
Set goals – it is useful to set goals so that progress can be measured. This needn't be complicated, simply a way of measuring how well the family is doing.
Don't get stuck on grammar – yes, it is important, however if a family is looking for conversational Spanish then concentrate on just basic grammar plus vocabulary and pronunciation. More advanced grammar will follow.
It's also a good idea to let children's teachers know that the family is learning together – it can be helpful if the teachers know that the family are also learning Spanish.
You might also like...