The Infinitive in Spanish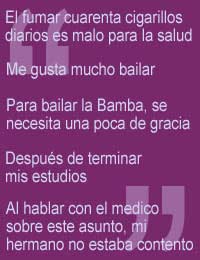 The infinitive is the part of the verb you will find most commonly listed in dictionaries. It names a particular activity without saying when it happens – in other words, it only explains what is being described. It cannot show number, mood, time or person. It is best translated into English with the word 'to' – to speak, to show, to break, to cook etc.
In Spanish, the infinitive will end in one of three ways: -ar, -ir or –ir. In some cases, such as reír (to laugh) or freír (to fry), the vowel takes an accent.
Here are some random examples: venir (to come) llegar, (to arrive), convencer (to convince).
Infinitive Uses - The Infinitive as a Noun
The infinitive in Spanish can often work as a noun, similar to the English 'ing'. In such cases, it should always be treated as masculine singular. Sometimes the masculine definite article (el) is used with it. For example:
El fumar cuarenta cigarillos diarios es malo para la salud.
Smoking 40 cigarettes a day is bad for your health.
Infinitive Uses - The Infinitive Following Verbs
This is a very common construction in Spanish – below are some examples
Queremos salir a cenar a las ocho.
We want to go out to have dinner at eight o'clock.
Me gusta mucho bailar.
I like dancing very much.
¿Sabes nadar?
Do you know how to swim?
Infinitive Uses - Preposition and an infinitive
The infinitive is the only form of the verb that can be used after a preposition. (A preposition links nouns, pronouns and phrases to other words in a sentence.)
It is often used with the following, see if you can translate the sentences beolow:
antes de before - antes de ir al cine
después de after - después de terminar mis estudios
en lugar de instead of – en lugar de tomar un café, voy a beber un té
para (in order) to – para bailar la Bamba, se necesita una poca de gracia
sin without - sin querer, he ofendido a Natalia
Now have a look at this sentence:
Mi hermano fuma sin parar. En lugar de dejar de fumar, busca razones para defendelo. Debería pensar antes de seguir.
My brother smokes without stopping. Instead of giving up smoking, he looks for reasons to defend it. He ought to think before continuing to smoke.
Infinitive Uses - Al and the infinitive
Placing the infinitve after al is the equivalent of saying 'on …ing' in English. Here's an example:
Al hablar con el medico sobre este asunto, mi hermano no estaba contento. Al volver de la visita, estaba bastante preocupado.
On speaking to the doctor about this subject, my brother wasn't very happy. On returning from the visit, he was quite worried.
Infinitive Uses - The Infinitve as an Order
The infinitive can sometimes be used as an imperative, meaning to give an order, in notices, manuals, recipes and so on, where it is perhaps more important to be clear and brief than it is to be polite.
For example, you may see something in a recipe book like this:
Cortar las patatas en rodajas
Cut the potatoes into slices.
Answers to Translation Sentences
Before going to the cinema.
After finishing my studies.
Instead of having a coffee, I am going to drink tea.
Without wanting/meaning to, I have offended Natalia.
You might also like...