Ser and Estar in Spanish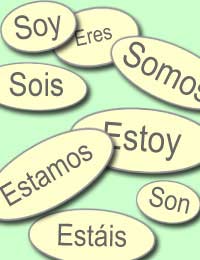 A unique characteristic of Spanish is the existence of two verbs 'to be'. The infinitives are ser and estar, and both have their own distinct uses, so they are not interchangeable. Some of the differences between the two are quite clear cut – others are more subtle.
First of all, here are the present tenses of both verbs:
Ser
Soy
Eres
Es
Somos
Sois
Son
Estar
Estoy
Estás
Está
Estamos
Estáis
Están
When to Use Ser
Ser is used to identify people and objects in response to the questions who? and what? So –
Mi padre es professor.
My father is a teacher.
Soy inglesa.
I am English. (Female.)
Mi coche es un Fiat.
My car is a Fiat.
You also use this verb with adjectives to describe the basic, natural characteristics of a person in response to the question what is he/she/it like, or what is it made of?
So –
Es de hierro y madera.
It's made of iron and wood.
Es muy simpatico.
He's very kind.
Also use 'ser' to say where you are from:
Soy de Madrid.
I am from Madrid.
And when telling the time, and also for dates:
Son las doce.
It's twelve o'clock.
Es el dos de mayo.
It's the second of May.
Finally, you use ser to form a passive verb. This is as opposed to active verb – so, for example, 'The ball was hit by John' rather than 'John hit the ball.'
Here's an example in Spanish, using the verb ser:
El piano ha sido vendido.
The piano has been sold.
When to Use Estar
Estar, in contrast, comes from the Latin verb stare, or 'to stand', and is related to the word 'state' (as in state of being, rather than a nation). So it is used in Spanish in answer to the questions Where? (with estar, such questions translate literally as 'Where does it stand?') and How?
Let's look at some examples:
Estoy en casa hoy.
I am at home today.
¿Dónde está la estación de trenes?
Where is the train station?
Estoy de buen humor.
I am in a good mood.
Estoy contenta porque he quedado con un chico muy guapo el viernes por la noche.
I am very happy because I'm meeting a good-looking boy on Friday night.
Estar is also used to describe a state resulting from the action of some reflexive verbs, by which we mean those where the subject carries out the action to/for him or herself – she's having a shower – se está duchando.
So – Mi padre está muy cansado
My father is very tired.
(From the reflexive verb cansarse, to tire oneself,)
Estar is also used to form the progressive tenses:
Estamos aprendiendo el español.
We are learning Spanish.
Estar Por and Estar Para
Note the difference between the following phrases: estar por (to be in favour of) and estar para (to be about to). Here they are in an example:
Cuando estábamos listos por vender el piano, mi padre se lamentó, y dijo que al final estaba por no venderlo.
When we were about to sell the piano, my father complained and said that in the end he wasn't in favour of selling it after all.
Ser and Estar with Adjectives
When you are using an adjective (or describing word) in conjunction with these verbs, take care to chose the right verb 'to be'.
Remember, use estar for a state which is changeable, or brought about by circumstances.
Ser should be used when referring to a predictable, permanent and/or natural characteristic. So ser is the one to use with adjectives like joven (young) and viejo (old.)
Although death may seem an alarmingly permanent condition, estar is always the verb used to describe this state.
So, here are some examples:
Mi abuela ya es bastante vieja.
My grandmother is quite old now.
Su marido, mi abuelo, está muerto.
Her husband, my grandfather, is dead.
Sometimes, you can make an adjective usually associated with ser more vivid and immediate by using estar instead. This is especially true of exclamations, and becomes a way of saying 'look'. For example:
¡Que guapa estás!
How pretty you look!
Note that some adjectives have different meanings, depending on whether they are used with ser or estar. Here they are
ser aburrido to be boring
estar aburrido to be bored
ser bueno to be good
estar bueno to be tasy (of food)
ser malo to be bad
estar malo to be sick
ser cansado to be tired
estar cansado to be tiresome
ser listo to be clever
estar listo to be ready
ser divertido to be amusing
estar divertido to be amused
ser sordo to be deaf (as a permanent condition)
estar sordo to be deaf (temporarily, because of loud music or a cold)
You might also like...