Por and para in Spanish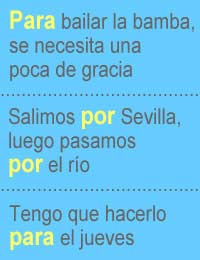 Por and para are two prepositions which some learners of Spanish can find confusing at first. Essentially, this confusion comes from the fact that both can translate as 'for' in English – but in different contexts.
Don't worry if you are struggling initially to know when to use which – you are not alone! In fact, some might say that it's right up there with the subjunctive and ser and estar as one of the hardest things to learn in Spanish. But don't be put off. The good news is that, by following a few simple rules, you should be able to get your head round the differences quite quickly. ¡Suerte! (Good luck.)
The best way to distinguish between the two is to see para as indicating purpose – para qué means What for? For what purpose?, while por is more about indicating cause.
Para
Think of this word as meaning 'for' in the sense of destined for, intended for or considering.
Take this sentence as an example:
En Córdoba, compramos flores para la tía María. ¡Para ser hombre, no escogí mal!
In Córdoba, we bought flowers for Aunty Mary. For a man, I didn't chose badly!
Para also means 'for' in the sense of by a certain time. For example:
Tengo que hacerlo para el jueves.
I have got to do it for Thursday.
Also, use para with the infinitive of the verb as a little construction which means 'in order to'. Remember the famous line of the song, La Bamba;
Para bailar la bamba, se necesita una poca de gracia.
To dance 'la bamba', you need a little bit of grace/charm.
Finally, the little phrase para siempre (NEVER por) means for ever.
Por
This word can be translated as 'by' as part of what is known as a passive verb construction. For example:
Estas flores son cultivadas por una empresa local.
These flowers are grown by a local firm.
Por can also mean for in the sense of through, because of or as a result of.
La empresa es famosa por sus flores, pero no la visitamos por la necesidad de continuar nuestro viaje.
The firm is famous for its flower, but we didn't visit it because of the need to continue with our journey.
Por can also mean 'in exchange for':
¿Diez euros por esas flores ? ¿No puedo pagar menos por ellas ?
Ten euros for those flowers? Can't I pay less for them?
It can also mean through, via or along:
Salimos por Sevilla, luego pasamos por el río.
We set out through Seville, then went along the river.
You will also see por used to mean 'for' in the sense of 'on behalf of.' So that:
Compré flores por mi madre.
I bought flowers for my mother – in the sense of 'on behalf', so that she could then pass on to someone else, rather than for her directly. (This is where learners can initially get confused!)
Por is also used to say 'for' when describing a completed period of time, usually in the past:
Nos quedamos allí media hora.
We stayed there half an hour.
Por is also used when talking about motion in the sense of 'all around' or 'all over':
Dimos un paseo por la ciudad. Luego subimos por la rampa hasta lo alto de la cathedral. Desde allí, vimos toda la ciudad por debajo de nosotros.
We walked around the city. Then we went up the ramp to the top of the cathedral. From there, we could see all the city below us.
Finally, note the use of por in the following common expressions, known as adverbial phrases.
Por la mañana In the morning
Por la tarde In the afternoon/evening (remember Spanish doesn't differentiate between the two.)
Por la noche At night
Por ahora For now
Por si acaso Just in case.
Por telélefono By or on the phone
After some time learning Spanish, you will find that you develop an instinct for knowing which one to use, without having to think about it too much.
You might also like...