Personal a in Spanish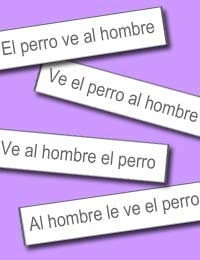 Spanish word order tends to be quite fluid. Because of this, an extra 'pointer' is needed to make clear whether the person is the subject of the verb (in other words, the person who does the action) or the direct object of the verb (i.e. the person who is seen, helped, heard etc.). This little marker is otherwise known as the 'personal a'. It simply means the use of 'a' before the direct object if the direct object is a person.
There is no literal meaning, it is just an indicator to avoid confusion. In many ways, it's a marking out of human direct objects and giving them a special distinction. (Other languages do this as well.) In particular, the personal 'a' is never omitted before a direct object which is a personal name or title - Uncle Pepe, Professor Gomez.
These are examples of how the personal a would be used:
Vi a José
I saw José
Pepe llama a Sergio
Pepe calls Sergio
Nadie and Quien
The same principle applies with these two words:
No vio a nadie.
He/She/You (formal) saw nobody.
Note the different meaning without the 'a':
No vio nadie
Nobody saw.
It's the same story with quién -
¿Quién vió?
Who saw?
¿A quién vió?
Who did he/she/you (formal) see?
Note that, to make the meaning absolutely clear, the personal 'a' is sometimes also used even if the direct object is an animal.
So: Atacó el perro el gato is ambiguous - it could mean the dog attacked the cat, or vice versa.
But: Atacó el perro al gato ( a and el having contracted in this sentence to form al) Thanks to the personal a, this sentence can only mean that the dog attacked the cat.
Additionally, this construction is sometimes used in front of animals, towns and countries to personalise them. In many cases, with animals it depends on the extent to which you want to humanise the creature.
More Example Sentences
Have a look at the following:
Todavía no conozco al novio de mi hermana.
I still don't know (or haven't met) my sister's boyfriend.
¿Conoces a María?
Do you know Mary?
¿A quién viste?
Who(m) did you see?
No vi a nadie.
I didn't see anybody.
Gustar and 'Back to Front' Verbs
There are a number of Spanish verbs which work 'back to front' to their English equivalents. The subject in English becomes the direct object in Spanish. So that 'My son likes computers', which sounds perfectly natural to the English ear, becomes 'Computers please my son' (literal translation of the Spanish). In such cases, the personal a is often used for emphasis.
So:
A mi hijo le gustan los ordenadores
My son likes computers.
A mí no me gusta el trabajo
I don't like work.
Other similar verbs include:
Me apetece - I feel like
Me duele - It hurts
Me encanta - I love (things rather than people)
Me interesa - I am interested in
Querer
Have a look at these two sentences, and see the difference the personal 'a' makes: